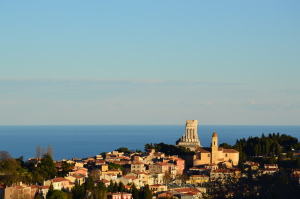 The Trophy of Augustus was erected at the highest point of the Via Julia. It overlooks the Mediterranean sea from San Remo to the Esterel massif.
This outstanding monument was built to honour the Roman emperor Augustus for his victory over the people of the Alps who were subjugated between 25 and 14 B.C.
Standing above the ancient port of Monaco, the trophy marked the end of the Alps and was part of the landscape of the sanctuary devoted to Heracles (Hercules for the Romans. The name of Monaco – Monoikos in Greek – is almost always associated with that of Hercules by ancient writers.
The monument originally served no military purpose and contained no fortress. However in the Middle Ages, the edifice was fortified, with locals building houses around its walls. In 1705 when war broke out between Savoy and France , Louis XIV ordered the destruction of all fortresses in the region, including this one. The partially destroyed Trophy then became a quarry and its stones were used, among other things, to build the nearby church of Saint Michel.
It was only when the County of Nice became part of France in 1860, that the trophy was listed as a historic monument.
In the beginning of the 20th century, the architecture was partly restored by Jean-Camille Formigé and his son Jules, master architects for historic monuments.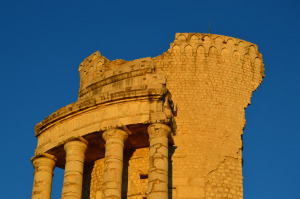 The area surrounding the Trophy is rich with remnants of the Roman empire, such as the famous Roman roads. The Via Julia Augusta is a continuation of the Via Aurelia which linked Vintimille to Cimiez (Nice). Various fountains within the territory of the communes of Beausoleil and Roquebrune Cap Martin are also said to be Roman.